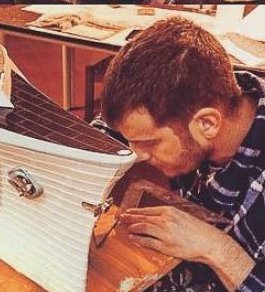 Ivan Pedersoli
"My name is Ivan Pedersoli. I am 27 years old craftsman from Boaro Terme in Brescia Italy, and I have always had a strong passion for boats and ships in general."
"When I was very young, indeed, I used to create small wooden boats and made them float on the stream near my house. This passion increased profoundly over the years and to the point when I started to manufacture twentieth century transatlantic liners. Despite the fact I had less time due to my job in the building industry, I ahve alwasy tried to maintain and improve my passion, working enthusiastically as an autodidact in my basement room."
"All my models are unique in the world: as a first step, I carry out an in-depth historical research, which is fundamental in order to create a model which is as much as possible accurate to the original. Authentic shipyard project, period photographs and available amatuer videos are some of the essential elements for this task, Together with some testimony, if possible."
"For further information, curiosities or requests, please contact me at: ivanpedersoli@gmail.com"